Event #36 ($2,000 NLH), #38 ($2,000 Limit Hold'em), and #39 ($1,500 NLH) have done or are going to do, but unless you're immediate friends and family of the participants, you're probably not going to care. 

So focusing on the bigger picture, outside of Jeffrey Lisandro's second 2009 WSOP bracelet win, the other major story of the day was the start of Event #40 ($10,000 PLO Championship). A field of 295 entered, including some big names we haven't seen much of yet (Patrik Antonius, Ziigmund, and…Tex Barch? He's still playing?). About 115 of those players made it through to Day 2 (not including the aforementioned Antonius).

Maybe it's because it's the weekend, or maybe because a bunch of tanned, Speedo-wearing Euros with deep-pockets and morally casual attitudes are playing, but the event seemed to bring out more Girls on the Rail then we've seen before. Take for instance the girl above, who was sweating Mike Wattel (well played, Sir) and whose awesome breasts were literally spilling out of her dress. Click the below thumbs to view.

Anyway, Nate Lindsay appears to be the overnight chip leader, stacked at 482,200. He's followed by Noah "McLovin" Schwartz (292,6000), Ilari 'Ziigmund' Sahamies (229,400), David Williams (223,000), and Josh Arieh (220,600). Other big named big stacks include Barry Greenstein (153,800), Erick Lindgren (120,900), and our Official Pick to Win ItTM, Howard Lederer (101,500).

First place pays $679,379. Second place pays nothing, because like Ricky Bobby said, "If you're not first, you're last." Actually nevermind, just looked it up, second place pays $419,832. Action starts again today at 2pm PT. Get full chip counts here.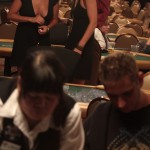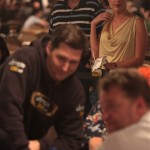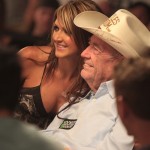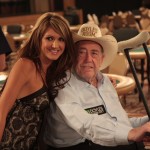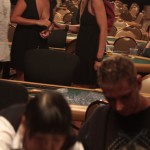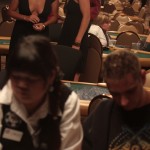 Not to discredit what the players in