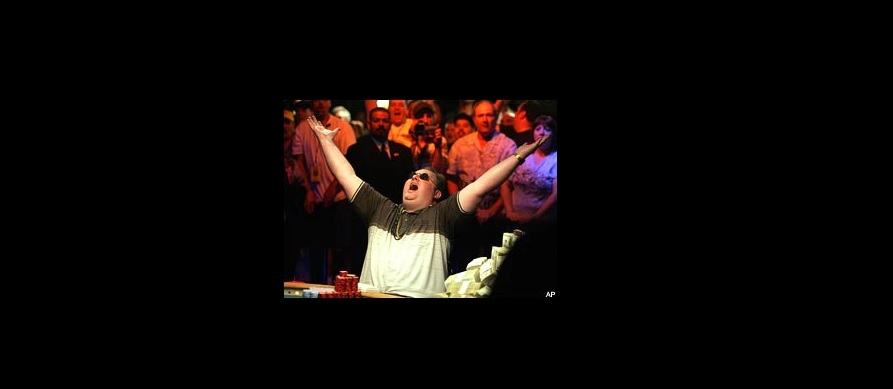 ** Editor's Note: A panel of industry peers helped assemble the 20 Greatest Poker Pics of All Time. A new picture will be posted daily until we get to #1.
After Chris Moneymaker's improbable victory aired on ESPN approximately 1,497,982 times, the WSOP Main Event field exploded. Nearly three times as many participants entered the 2004 Main Event compared to 2003. Poker sites–such as PokerStars–helped fuel this growth, holding online satellites like the one Chris Moneymaker famously won to send people to the WSOP wearing for a shot at poker glory**.
Greg Raymer, a patent attorney who had worked for Pfizer, won one of those satellites.
2004 wasn't Raymer's first rodeo, however. He had played the WSOP for years, had cashes to his name, and had been a staple contributor on rec.gambling and then 2+2. But poker wasn't Raymer's sole profession and he was still somewhat viewed/positioned as an "amateur" to the public.
Raymer received a lot of attention during the 2004 broadcast, in part from being on the receiving end of a bizarre Mike "The Mouth" Matusow blow-up, and in part because of his "Fossilman" sunglasses. Once at the final table, Raymer played the role of big-stack bully, eventually defeated David Williams heads-up for the title and leading to our #12 photo.
We've gotten to know Greg, and what stands out most from this photo is it runs in stark contrast to his day-to-day, calmer and more methodical demeanor. The shot is pure exultation and shows that winning the Main Event isn't just about the money–but that it means something.
Here's what Raymer told us about the shot:
I'm not really sure what was in my mind, as the rush of emotions was so strong it was overwhelming.  I would say it felt much the same as when I played competitive racquetball in high school and college (I had been a highly rated amateur at that time in Missouri), and would win a crucial match or a tournament.  It is the same type of feeling, only this was for the world championship and the most money ever won in a poker tournament, so it was that feeling times 1000.

Obviously I have enjoyed being the world champion, and it means a lot to me.  However, unlike what I've heard from many others after they have won a big tournament, it did not change my opinion of myself as a player, or validate me, or anything like that.  At the time, I already knew I was a very good poker player, and especially a very good tournament player.  But I wasn't the best then, nor am I now….

…I know that winning one event, or even a few events, doesn't really prove all that much.  And I don't care very much about validation or public approval.  In fact, the only reason I care at all about how other people view me as a player is that I wanted to be marketable as an ambassador/representative for poker businesses and for my training seminars.  When it comes to confidence, I am very self-reliant.

The greatest thing about winning the Main Event is that I will get to always say I am the "champ," and my picture will always hang at the WSOP amongst the other champions, and my name will always be there in the record books.  I hope to continue to perform well in the poker world, and to always be a part of it, for the rest of my life.  With any luck, in another 20+ years I can be something like Doyle, the respected elder statesman of the game, who is still amongst the best at the table, even if I never reach the status of being in consideration as being the very best.  But, I do continue to try to be better and better each day than the day before, so maybe someday I can achieve that status.  If not, I'll know I tried my best, and always played smart and fair.
We believe this picture is a great segue into the Top 10, which starts tomorrow, and is very heavy on the joy of victory. 
 * Photo Credit: AP Photo
** A number of these PokerStars satellite buy-ins went unclaimed, and the money sent to Binion's for them subsequently went missing. 
Review pics 20-12:
[nggallery id=341]