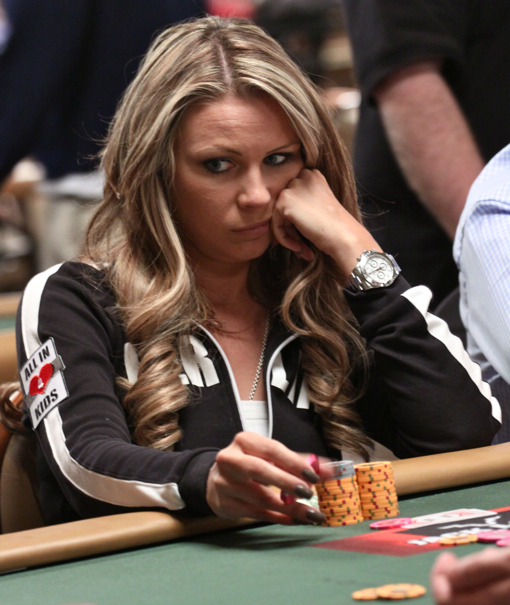 All eyes were on Phil Ivey late yesterday as he captured his eighth WSOP bracelet. One thing we'll be watching today (except for during our latest This Week In Poker live stream…tune in here at 7pm ET, 4pm PT) is if any of the many women still alive in events today can make a case for the Year of the WomanTM again. Here's the latest updates.
:: Event #35 ($10,000 NLH Heads-Up) – Sure, if we saw the name Ayaz Mahmood on a passenger manifesto, we'd probably piss our pants and see if Southwest had any seats available on it's next flight. But whatever. The dude has a great tourney cashing record, and "some" would say he's overdue for a bracelet…until now. Mahmood won the $10k NLH Heads-Up event, banking $625,682 for the win. He defeated Ernst Schmejkal ($386,900) for the title. Get full payouts here.
:: Event #36 ($1,000 NLH) – A total of 38 remain, with Jonathan Clancy as the chip leader, stacked at 774,000. He's followed by Timothy Beeman with 549,000. Svetlana 'Glum Girl' Gromenkova (188,000), a woman, is also still alive. Get full chip counts here.
:: Event #38 ($10,000 PLH) – They're in the money, with the field down from 268 to 28. Canadian Peter Jetten is the overnight chip leader, stacked at 684,000. He's followed by the very froggy sounding Clement Thumy with 616,000. Other notables remaining include but are certainly not limited to Thomas Marchese (522,000), Dani Stern, not a woman (425,000), Amit Makhija (267,000), Amnon Filippi (255,000), Vitaly Lunkin (180,000), Sandra Naujoks, a woman (154,000), Allen "Chainsaw" Kessler (102,000), and Marco Traniello, who is married to a woman (77,000). Get full chip counts here.
:: Event #39 ($1,500 NLH Shoot-out) – Something like 1,400 entered with something like 140 advancing. Isabelle Mercier, a woman, and Annette Obrestad, a woman, remain. Get a full list of winners here.
:: Event #40 ($2,500 Razz) – A total of 365 entered the final event of the day, creating a first place prize of $214,085. A lot of women are among the 160 remaining, including overall chip leader Shannon Shorr, a woman, with 90,900. Other notable big stacks include David Chiu (49,100), Bryan Micon (40,600), Isaac Haxton (39,400), "Salty" Joe Hachem (34,500), Shawn Sheikhan (33,800), Katja Thater, a woman (33,700), Jennifer Harman, a woman (33,700), and Lacey Jones, a woman (25,700). Guess women are so good at Razz because it's a maddening game that will drive you fucking crazy and suck the life out of you if you play it long enough. Get full chip counts here.