With more and more of the 2010 World Cup (USA! USA! USA!) elimination round match-ups coming into focus as first (USA! USA! USA!) and second place finishers for each group are decided (USA! USA! USA!), we also start to get a clearer picture of the leaders in the Wicked Chops 2010 (WSOP) World Cup Bracket (USA! USA! USA!).
Take a look at the leaderboard below (click to make bigger) or head over to the group page to see the full results (USA! USA! USA!):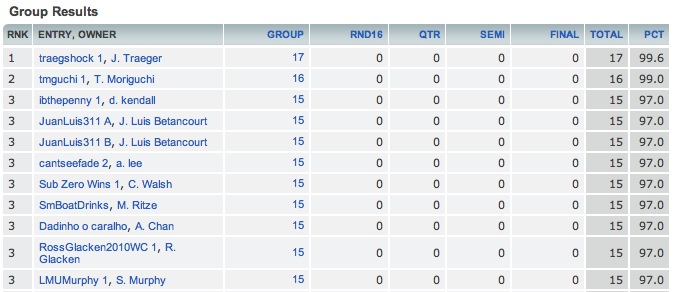 As you can see, traegshock (USA! USA! USA!) has a slight edge over tmguchi for the top spot at the moment, and both are just clear of the group all tied in third. The last group stage matches wrap up tomorrow (USA! USA! USA!) to fill out the remaining spots in the brackets (USA! USA! USA!), then the Round of 16 gets underway on Saturday (USA! USA! USA!). That's when the men will be separated from the boys, cos there's no partial credit awarded in the elimination rounds (USA! USA! USA!).
Check out our list of prizes again below, and keep your eyes here for bracket updates and on Soccerati for 2010 World Cup updates (USA! USA! USA!):
3 month membership to DeepStacks University, with $99 activation fee waived
A PokerVT membership (duration TBD)
Skullcandy headphones (and possibly some other Skullcandy swag, still waiting on the box to arrive)
ESPN gear in some form or another – TBD
Soccerati t-shirt
PokerRoad t-shirt
RawVegas.tv hat
More prizes TBA, maybe, possibly…
And fuck you France.