Dennis Phillips' reported "counseling" of Darvin Moon had anything to do with playing poker, but if it did, then Phillips definitely is the right guy to consult with on how to spew a ton of chips at the early stages of the WSOP Main Event final table.

Moon basically bluffed off over 10M to Antoine Saout, whittling his stack down to just over 49M. Saout now has over 21M.

Sure, Moon still has the chip lead, but it was a pointless move (read about Hand #45 here) that chipped up a good player. And Moon doesn't need to be doubling up good players if he expects to win this thing. Which means it's really only acceptable for Moon to double up Steven Begleiter.

Below is a pic of Saout's contingent going nuts after his double-up. Next to it is Akenhead's reaction to tripling up, courtesy of Jonathan Little's twitpic.

No one has been knocked out yet. Kevin Schaffel is short-stacked with 7M. Ivey has just over 10M.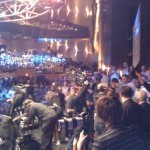 We don't know 100% if