They say a picture speaks or says or is worth 1,000 words or something.
So since Lord knows we've been asked a plenty, we'll let this picture sum up what we thought of the first  Epic Poker League Main Event.
As to be expected with any inaugural event, some things went great, and some… not so much.
With that in mind, here's our Epic scorecard: it's a glass is half-empty/half-full look at what worked and what didn't.
Epic Scorecard
Players First?: A 
No need to reinvent the wheelTM, this excellent Poker News article sums it up well. Pros really liked it.
The league is built on the mantra "Players First." If there was one area we figured Epic would hit it out of the park, it was how they treated the players. Given all of the skepticism, this was absolutely crucial to any shot at success.
Pros generally love Matt Savage structured tournaments, he's great at what he does, and there were no complaints there. The vouchers, limos, etc. also provided pros with a VIP experience they don't get in other events.
Aside from that, Epic has no rake and added $400,000 to the prize pool. To some, the difficulty of the field somewhat negates the added money from an EV perspective, but that doesn't mean it's bad for the pros by any stretch.
So Epic 100% lived up to their slogan at the inaugural event.
Charity Event: A
Another tip of the cap to Epic on this one.
Given Annie Duke's track record in organizing charity events, this grade isn't a shocker. By all accounts from people we spoke with at the event or saw on Twitter, this was a big success. Players had a blast and Epic raised an impressive $53k+ for Operation USA,  a charity that this guy probably loves.
Staff Professionalism: B+
WCP is going to be the red-headed step-child at any Epic event. We get that. We're as popular there as a turd in a punchbowl.
But the Epic staff on hand were very professional. Rogers & Cowan, whose efforts Epic really owes a large degree of their early hype/buzz to, were as fair as they could've been, all things considered. R&C rep Tara Moore in particular was fantastic. Judging by the onslaught of tweets, the media Epic hired to cover the event were excited and generally acted as the company's biggest cheerleaders (although the tweets by the end of the event were a bit on the self-felating side).
Site Aesthetics: B-
First and foremost–the TV set/stage itself is an A. Would expect nothing less from 441.
The media area for interviews also looks great.
But otherwise, the event felt small.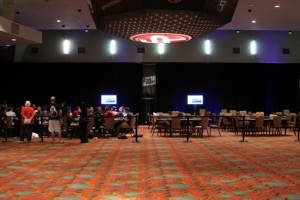 We're all about comparables.The WPT Championship is a good one to stack Epic up against here. Held in the Fontana Room at the Bellagio, the WPT Championship, even with only 80-90 more players, "feels" bigger. You've got a spectator rail. You've got other media. You have a great view outside. It just feels like a championship.
Pre-final table…Epic felt like you were attending an insurance seminar. It's hard to get to if you don't know the Palms well, which limits the rail. Plus, well, there's really no room for a rail. You're in a conference/ball room.
Pro-friendly vibe, ok, we get that. Nobody is going to bother them as they head to the bathroom during breaks. But the room doesn't add anything to the grandness of what's supposed to be an epic event.
Turnout/Attendance: D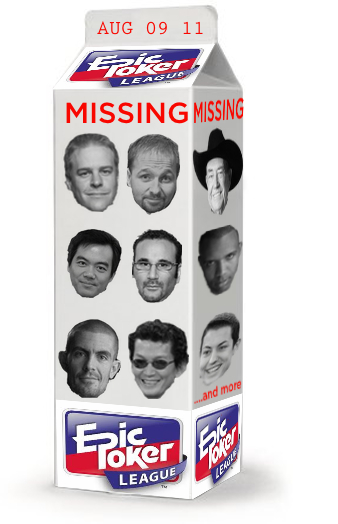 Don't care how you spin it: if you spend 8 months getting/buying unprecedented hype in poker and mass media, and you have literally no other competition in the tournament space for a week, and it's your inaugural event, and you're going to be one of the only poker broadcasts on TV now that PokerStars and Full Tilt time-buys are kaput in the U.S. market, you should get more than 51% of your pro roster to play (and more of your top names, as Patrik Antonius, David Benyamine, Doyle Brunson, Johnny Chan, Tom Dwan, Chris Ferguson, Bertrand Grospellier, Gus Hansen, Jennifer Harman, Phil Ivey, John Juanda, Howard Lederer, Erick Lindgren, Mike Matusow, Daniel Negreanu, Men Nguyen, and Scotty Nguyen all skipped the first event).
And if you spend almost two months running qualifiers for your Pro-Am, and you require league members to play in 1 of the 4 Pro-Ams, and many of the seats you gave away to the Pro-Am were part of satellite overlays/min-guarantees, then 190 is a very weak number too. For comparison's sake, without two months of qualifiers and unprecedented hype, the $1,500 buy-in Venetian Deep Stack one month earlier pulled in 286. The $1,500 buy-in HPT event this weekend in Turning Stone pulled in around 300 more than the Pro-Am.
And for all the buzz and hype and signage in the Palms, Epic still needed to pay for a large number of people to sit in the TV audience, which shows that outside the poker community (and to a degree, inside it as well), EPL isn't resonating.
Can those numbers improve? Possibly. Our gut is the September Pro-Am drops, and the Main Event stays about the same or has a slight up-tick. Maybe once the show starts airing on Saturdays on CBS after college football, as Epic management has told players, interest in the league, and growth in spectators, increases too.
But all in all, the numbers weren't what they should've been.
 Chance for Future Success: D-
Let's be clear about one thing before we go further: we really do think Epic is Good for PokerTM right now.
That doesn't mean we think it'll be a success though.
We get knocked for making it personal with Epic. And that's fine. We don't care. We've always reported critically on aspects of the industry. We did it with the WPT back in the day. We've done it with the PPA. We've done it with our friends at 441 and the WSOP TV product last year.
Now do we take extra digs at Epic? Absolutely. And Epic management knows exactly why we do it. Even commenters like Hafada (we know who you are, by the way) seem to know about 5% of the truth as to why.
All of that aside, Epic is just about the only U.S. poker company spending money right now. They've hired many a friend in the poker industry, and we very much believe they'll provide a lifeline or bridge to keep these good people employed until regulation/legislation happens.
But…they're spending crazy money. The only branch of the company that is going to generate a penny of revenue is the Heartland Poker Tour.
There were no advertisers for the first event on site, and the TV show with its overlays is a massive cash drain . The Epic management team is top heavy on the pay scale. They didn't acquire HPT for free. A lot of cash is rushing out the door.
This model can't sustain.
As we've expressed to Epic management, their biggest hope is for online poker regulation to pass in the U.S. this year. It'll (potentially) provide a financing lifeline for them.
Then they could build an exit strategy around the bundling and sale/partnership of all their assets. They own the HPT. They have a TV property. The have a SMG property (albeit one that probably isn't worth much–but it's an asset). They have pros on board that they've treated well, and could theoretically put together their own Full Tilt type roster in a real money gaming (RMG) world if any potential casino partner is game with that idea.
Sure, with the sale of the Palms to Caesars parent company, they'll likely have to find a new aforementioned RMG partner, but that doesn't mean said partner won't present itself.
And that's how we see it. If poker gets legalized this year and they have a sliver of hope.
If it doesn't, they're drawing dead, and the whole league is over.
But at least they're taking care of players and people in the industry before that happens.
Footnote: Worth noting, but anyone who thinks we sent a "spy" to the Epic event, please go watch Loose Change. We think you'd like it.