Episode 13 of This Week In Poker is now up on YouTube here and iTunes (video/audio).
Great show yesterday with poker blogger and author Paul "Dr. Pauly" McGuire in the studio to discuss his new book Lost Vegas: The Redneck Riviera, Existentialist Conversations with Strippers, and the World Series of Poker (buy it here).
In what would have been better as a late night ChatRoulette session, a just-wearing-a-bath-robe Lacey Jones joined us on Skype from London (at 3:20 in) to talk about our new sponsor, Full Tilt Poker's Doubles Poker Championship (intro'd at 1:24 in). A 13-week television series featuring an innovative format of team poker, Doubles Poker Championship airs every Saturday at 9pm EST on GSN. For an overview of the format, go here. Watch the entire first episode here.
Also joining us via Skype was a doped-up on muscle relaxers Chops (at 27:44), who broke news about J.D. Newitt's subpoena before the U.S. District Court (Southern District of New York). The gist is that the DA is interested in info involving miscoded transactions by Full Tilt Poker that occurred right after the UIGEA was enacted. Watch above though for the full account.
Finally, Jess Welman delivered all of the big poker headlines (at 14:25) before she heads off to Atlantic City to get mugged cover the WPT Borgata.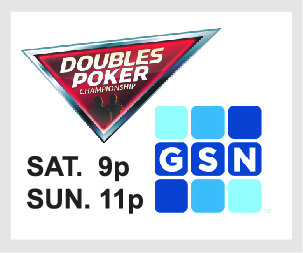 Thanks to all who thanked Full Tilt's Doubles Poker Championship via Twitter for sponsoring This Week In Poker. If you haven't done so yet, please do by tweeting:
"Thank you @FullTilt_WSOP Doubles Poker on @GSN for supporting @twi_poker #twipkr"