This Week in Poker episode 14 is now up.
Joining the show was actor Bill Parks (here), who talked Hollywood home games (including the infamous Shannon Elizabeth rake fest) and tournament director extraordinaire Matt Savage.
Of course, we had our poker headlines with Jess Welman and a special appearance by everyone's favorite cougar, Michele Lewis.
Show notes/time-stamps below:
0:00 – Cold Intro
:58 – 1:28 – Show starts, Bill Parks intro.
1:29 – 4:31 – Word from our sponsor: Full Tilt Poker's Doubles Poker Championship on GSN (clip from show at 3:11).
5:11 – Something about Asian Spa.
5:35 – 17:08 – Poker Headlines with Jess Welman, including the near-fight at the WPT Borgata, the lame Allen Bari/Matt Stout table/tweet spat, an update on the WSOP Europe and the latest WCOOP winners including Jason Mercier and "RaiseOnce" (aka Phil Ivey?).
17:09 – 19:03 – Quick discussion of how sick Jason Mercier is and how crappy AC is.
19:04 – 34:19 – Matt Savage joins us to talk about a tons of stuff including the WPT, where the WSOP is heading, how WSOP-E bracelets shouldn't count, how Allen Kessler is wrong, but no always, the Commerce's controversial stance on online poker legislation, the Detox Poker series and a whole lot more.
34:20 – 50:55 – Our interview with actor Bill Parks (Community, Better Off Ted, and that Aretha Franklin Snickers commercial running non-stop right now). Topics include the upcoming season of Community, the WPT Invitational, his appearance on Showtime at the Apollo and playing in Shannon Elizabeth's infamous home game/rake fest.
50:56 – FOWCP and everyone's favorite cougar poker player Michele Lewis joins us via Skype from her bed, a-la Lacey Jones style. Topics include how we once cock-blocked Allen Kessler and Yom Kippur.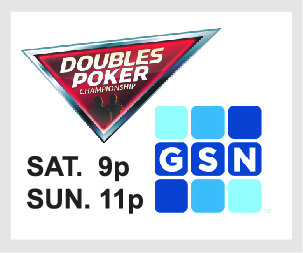 Thanks to all who thanked Full Tilt's Doubles Poker Championship via Twitter for sponsoring This Week In Poker. If you haven't done so yet, please do by tweeting:
"Thank you @FullTilt_WSOP Doubles Poker on @GSN for supporting @twi_poker #twipkr"