The latest episode of This Week In Poker is online now. Watch it on YouTube here or download/subscribe on iTunes.
Joining us on the show was Poker After Dark and NBC National Heads Up Championship commentator Ali Nejad, who finally reveals where get got all his money from. From London, newly minted Team PokerStars pro Liv Boeree skypes in moments after a second place finish in a EPT post-lim event. Finally we talk with Tony "Bond18″ Dunst a day after WPT announced him as the host of its new Raw Deal segment for Season IX.
All that plus the Tina Fey of Poker Jess Welman delivers this week's big poker headlines, including news from the EPT London, PokerStars blocking Washington State Residents, the latest poker pros appearing on reality tv shows and much more.
Show notes/time-stamps below:
0:00 – Cold intro
0:47 – 1:32 – Show starts/guest intros while Ali Nejad parks his Lamborghini.
1:34 – 2:44 – Word from our sponsor: Full Tilt Poker's Doubles Poker Championship on GSN.
2:45 – 3:24 – Introducing the new Chops and Colin Entity dolls.
3:25 – 5:31 – The ludicrously ridiculous appearance of Colin and Brian in the Tricaster video.
5:32 – 16:59 – Poker Headlines with Jess Welman. Topics include the EPT London, Washington State residents getting blocked by PokerStars, Tony "Bond18″ Dunst geting the WPT Raw Deal gig, Player of the Year updates and more.
17:00 – 39:44 – Interview with Ali Nejad starts. Lots of ground covered including auditioning for Top Gear USA, why he auditioned for the Raw Deal, who his favorite WSOP Girl on the Rail is, where he got all his money, why the Cal Bears suck, his favorite Gavin Smith story (here) and more.
39:45 – 44:40 – Poker Metaphors Signifying You Have to Act Quickly Roun with Ali Nejad.
44:41 – 55:09 – Skype interview with WTP Raw Deal host Tony "Bond 18″ Dunst about his new gig, winning the Brunson Beer Pong Tournament and whether he is getting laid.
55:10 – Interview with Liv Boeree starts.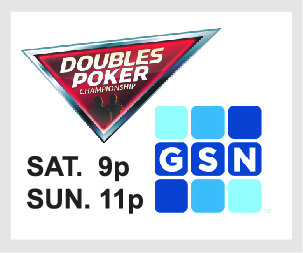 Thanks to all who thanked Full Tilt's Doubles Poker Championship via Twitter for sponsoring This Week In Poker. If you haven't done so yet, please do by tweeting:
"Thank you @FullTilt_WSOP Doubles Poker on @GSN for supporting @twi_poker #twipkr"